Our online card catalog contains over 15,000 in-house items including books, audiobooks, and DVDs.
Electronic resources are also available for download.
Can't find what you're looking for? We offer free Interlibrary Loan services.
Contact us with your request at (207) 497-3003 or peabodylibrarian@peabody.lib.me.us.
Library Hours

Tuesday 10am - 4pm
Wednesday 10am - 4pm
Thursday 10am - 4pm
Saturday 10am - 2pm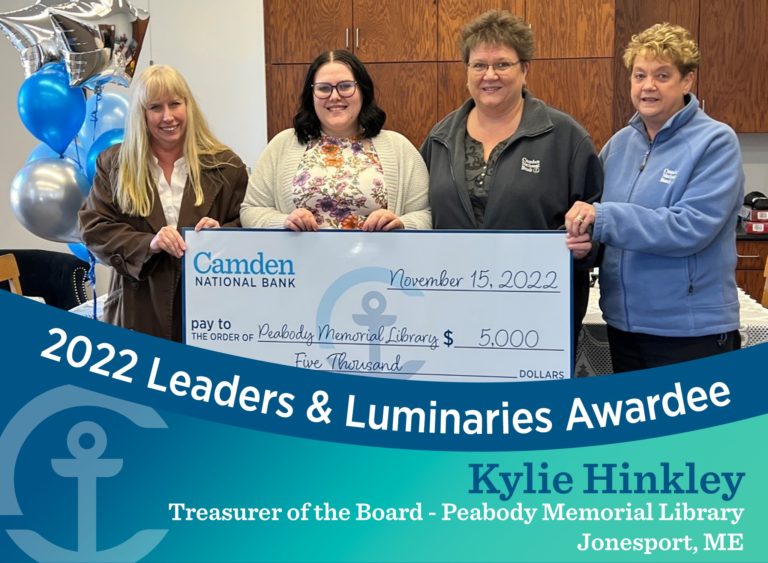 We would like to once again congratulate Kylie Hinkley on her Leaders and Luminaries Award and $5,000 grant for the Peabody Memorial Library in Jonesport.
The Peabody Memorial Library's mission is to provide services, cultural activities, technology education, and to act as a social resource to improve the quality of life in their area. Hinkley began volunteering at Peabody Memorial Library in 2003 at the age of six as a Girl Scout. Over the years, her role as a volunteer grew substantially and in 2012, at the age of 15, Hinkley was asked by the Board of Trustees to join them as a Trustee; she was then nominated and elected as the Treasurer for the Board of Trustees in 2019. In her tenure, Hinkley has established a Teen Advisory Group to increase the involvement of younger patrons and leads vital fundraisers to support the library's community operations and programming. She was also instrumental in the creation of an endowment for the library, which now provides a quarter of the library's operating expenses.