Valerie Aponik

Valerie Aponik lives with her husband Paul, and dog Ruby on Great Wass Island, Beals, Maine. Born in 1953, she grew up in Rhode Island and moved to Maine in 1976, following the back to the land movement. The extended family of son and stepson live in Maine.
She received her AD and BS in Nursing and Health Education from the University of Maine in Augusta and Farmington. She first studied painting with Lois Griffel at the Cape Cod School of Art  (following the work of Charles Hawthorne) inspired her use of color and form to convey light. Her pursuit of painting excellence has led to studies with Colin Page, Phillip Frey, T Allen Lawson, Louise Bourne and is ongoing every day.
"I am passionate about painting outdoors. Witnessing the color, form and light of a place that is changing, in motion and musical allows me to move out of the lines. I see spots of color and shape, that when laid down next to each other represent the whole. There is an urgency when painting outdoors to lay down the paint boldly, before it all changes. Whether it is a grand landscape or a celebration of the everyday, my work is a response to being present. Time stops at these moments for me. When the painting works, you can enjoy the tracks of paint and share my point of view."
Heidi Beal

Heidi Beal, native Beals Islander, recently moved back to her home town area after living in upstate New York for over 25 years. She started drawing at a young age and began painting in her teens. She is essentially self-taught, having no formal art instruction througout her school years. However, she later took several pen and ink classes. A lifelong admirer of lighthouses, she began painting a series of Maine and New York lighthouses, selling many prints in local gift shops. She primarily works in acrylics, however over the years she has tried her hand at air brush, body painting, and photography. She has received several awards for her photography in New York.
Greg Campbell
Greg Campbell was raised in Sedgwick, Maine, graduated from George Stevens Academy in 1960 and then attended the University of Maine for an altogether too long a time. In 1968 he and his family moved to Michigan and Greg worked for General Motors Research for 13 years. He started painting in the 70's as a stress relief. He worked for Mobil Chemical Research from 1981 to 1984 and then was an administrator and taught Chemical Engineering at Clarkson University for 24 years. He and Sue moved to Jonesport in 2008 after retiring from his 40-year technical research and development career which focused on polymers and plastics. He picked up the paint brushes for the first time in 30 years to take part in the Robert Beck clinic 4 years ago. He continues to work toward developing a style that is inspired by Richard Schmidt and others.
Heidi Hinkley

Heidi is the Librarian at Peabody Memorial Library and a member of the Library's Art in the Library Committee.
She has always been interested in art, especially crafting, but recently with the encouragement of friends and her family, has decided to attempt painting with acrylics.
She enjoys diamond painting, listening to Celtic music, watching the Boston Red Sox, and spending time at home.
She resides in Jonesport with her husband Billy, children Kylie and Douglas, and cats Jordan and Pete.
Kylie Hinkley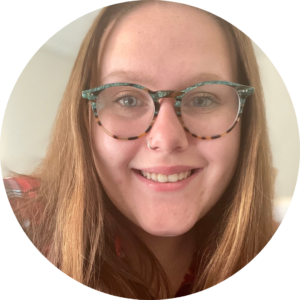 Kylie has been an avid volunteer at Peabody Memorial Library she is a member as well Treasurer of the Board of Trustees. Through her volunteer efforts, she has worked diligently with the librarian to upgrade the library with many important programs for all ages, especially children and teens.
She is also the finance assistant at the Downeast Institute on Beals, a member of the Jonesport and Addison Fire Departments, a Board Member of the Jonesport Historical Society, and a member to Peabody Memorial Library's Art in the Library Committee. She has enjoyed photography as a hobby since her teenage years and loves to photograph scenic photos of the Moosabec area.
A native of Jonesport, Kylie resides with her family and her cats Pete and Jordan.
Howard Lawler
Born in Philadelphia in 1935, Howard received a BA from Temple University and did graduate work in Marketing and Economics at the Wharton School of the University of Pennsylvania. Following service in the U.S. Army, Howard enjoyed a long career in Advertising and Public Relations in Philadelphia and in Wilmington, Delaware. He has two children, John and Melinda, with his late wife Jean. Following the death of Martha, his second wife, Howard moved from Delaware to Cape Cod where he lived until 2016 when he moved to Addison to be near his daughter Melinda (Mindy) Reynolds and her family. During his lifetime, Howard traveled extensively for business and pleasure and often photographed things that interested him, particularly buildings. Occasionally he made pencil sketches of his photos but it was only in 2021, confined by the pandemic, that he began to more fully render his sketches using acrylics, pastels, and colored pencils. Soon, a diversion became a passion and by 2022 Howard was hooked.
Paula Merchant

Paula resides in Jonesport with her fiance Charlie. She is the mother of three daughters and has six grandchildren.
She began diamond painting at Peabody Memorial Library when Covid restrictions allowed them to start the diamond painting group again. It has become a favorite hobby for her. Paula also enjoys reading, cooking, and spending time with her family.
Paula has been a patron of Peabody Memorial Library since she was a very young woman and is currently the Vice President of the Friends of Peabody Memorial Library.
Jeanne Mitchell

Living in Maine inspires Jeanne to paint her small acrylic paintings. She paints almost every day and learns something as she paints each piece. Friends from away often go home with a painting as a memory of their visits to Jonesport.
Charlene Nelson

Charlene is a local artist who has been enjoying a successful career doing her bird carvings. She is self-taught as an artist but had her late husband, Bob's, guidance in woodcarving. Over the years she has earned numerous awards for her songbirds, shorebirds, and decoys. She has been featured in several magazine and newspaper articles.
She has recently broadened her horizons and entered into the world of watercolor painting. After working with acrylics for so many years, she is loving the challenges that watercolor presents.
Charlene is a full-time resident and former owner of Nelson Decoys. Charlene is a member of Peabody Memorial Library's Board of Trustees and the Director of the Peabody Memorial Library's Art in the Library Program.
Mary Prince
Mary's imagery depicts the stability of an environment amidst continual change, vigorously capturing the transitory light and atmospheric changes that give voice to the beauty and endurance of the natural world and the still life. As an en plein air painter, she focuses on the bold and rugged coastline and pristine islands of Northeastern coast of Maine. As a painter of the still life, she takes care creating the sculptural aspects of the subject then revels in revealing the light and shadows that permeate. She has a Bachelor of Arts from St. Andrews Presbyterian College and a Master of Arts and a Master of Education from Columbia University.
Robin Rier

"When I go out to paint I have a location in mind, save driving around wasting time. Time is important when painting en plain air. Nature and all its elements change quickly and will influence how a painting will evolve to completion. Decisions are constantly being made – composition, color, brushwork, is this okay, do I need to change that? How can I indicate what I'm looking at? Painting directly pushes me to see and figure out my approach." Galleries: Woodwind Gallery, Machias; Maine Farmland Trust, Belfast; Lighthouse Art Gallery, Lubec; Columbia Falls General, Columbia Falls; intermittently Schooner Aft Gallery, Milbridge; Sweet Pear Studio, Jonesport; and sometimes Grand Manan Gallery, Grand Manan. B.A. Interdisciplinary Fine Arts, concentration Visual Arts. Workshops: Robert Beck, Barry Coombs, Philip Frey, Colin Page, Sharon Yates Contact: robin@robinrier.com – email 207-497-5739 – home gallery robinrier.com – website for more info.
Irene Rogers
Irene, a native Mainah; born and raised in Eastport as an only child. Her parents worked in the fishing industry, as had generations before them. She has lived on the Maine coast, always, except for a few years living in Florida. Since she was about 5 years of age, she always loved books, even though she was too young to read; she looked at the pictures Many Saturday afternoons were spent at the Peavey Memorial Library, sitting on a window seat reading the Bobbsey Twins! Her love of art developed when she was about twenty-one. At that time, the only place to get painting supplies was at the local drugstore and these were very limited. "I'm still learning and am my own worst critic!" Irene works at the Jonesport Town Office as Secretary to the Selectman and is looking forward to joining the Peabody Memorial Library's Board of Trustees in the near future. Lately, Irene has joined the diamond art group at Peabody Memorial Library. She has met some great women there, along with learning how to do the craft. She also joins them for a little lesson from Charlene Nelson on acrylic painting afterwards. Irene now resides in Jonesport with her husband Skip; she has a son, who lives in Dennysville, and a granddaughter, Hannah, who lives near the Villages in Florida.